Writing this as we sit on a cute little BA turboprop plane on the way back from Dusseldorf, it seems like the Christmas season has snuck up and well and truly begun already.
Last weekend's Christmas dinner in the barn in the country should have made that pretty obvious – first pudding of the season and everything! – but now I've also realised that I don't have a single full 5-day week of work left for the rest of the year. Can't complain about that! I got to do some cooking but really was a willing slave to Chris's designs, and he put on an awesome spread.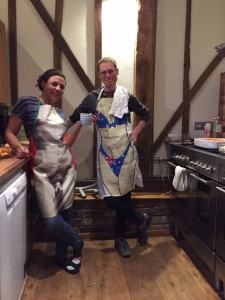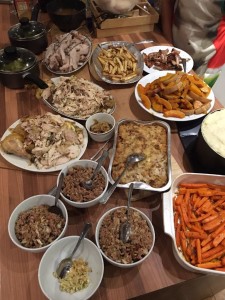 As you might have gathered from the opening paragraph, perceptive as you are, we've been in Germany for a few days to enjoy the Christmas markets and to meet up again with Dev and Kat (it had been far too long!). We flew in on Thursday evening, spent Friday in Dusseldorf, Saturday in Cologne, then a lazy Sunday back in Dusseldorf. We ate a lot of tasty market food, enjoyed an amazing free upgrade of our hotel room to a luxury apartment, drank the right amount of gluhwein (tastes way better than it sounds), experienced the company of friends, and generally braved the cold German outdoors in pursuit of nice things. An excellent weekend, and a well-needed break.
Slightly depressingly we realised that the last time we'd been to a non-English-speaking country was well over a year ago – Cyprus. It's also now almost two years since we've had a proper holiday all to ourselves, for ourselves – Portugal – and that's definitely something we need to make right next year. Admittedly I'm leaving out my Nice/Athens/Istanbul trip last year (because Erin wasn't along), but the point still roughly stands. Well, we've got plans, so next year all will once again be right with the world!
(Well, no, it won't, but thinking small scale here; the world at large is in a particularly depressing state at the moment, and seems to want to continue full tilt in that direction for the foreseeable future. They're warheads of love, honest.)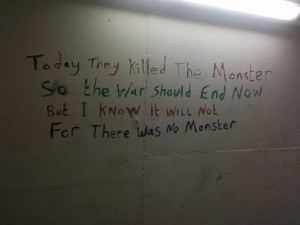 Looking back on the last few weeks, once again we've had an ultra-busy social calendar. It's hard to find the right balance between having too much on and too much free time, but I'm mostly pretty happy with how we're doing. It helps that house stress has receded somewhat, it's quite hard to enjoy oneself with that situation looming over one's head. I'm not going to go into that more right now, but there's light visible at the end of this long tunnel that may actually be the sun. More on that over the next few weeks!
The most memorable thing we've done in London recently was have brunch at Duck and Waffle, a restaurant at the top of one of the skyscrapers in the City. The view was amazing and the prices, while not cheap, were reasonable enough that we'd consider going back for an evening meal looking out over the city lights.
We also did an escape room – "Lady Chastity's Reserve" – which was quite a lot of fun and that we did quite well at.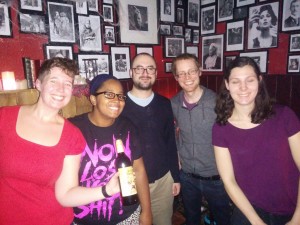 As mentioned, I don't have a single full work week for the rest of the year. I'm not actually taking any time off for Christmas itself – Christmas Day and Boxing Day is all – but I've got a couple of random days off between now and then which will be quite nice. But the real highlight of this December (well, hopefully!) is the 5-day 9-5 cooking course I'm about to embark on! It starts tomorrow (Monday), I've obviously got the entire week off work, and it will surely be an excellent and enjoyable opportunity to spend a lot of time cooking and learning new things in the kitchen. Even moreso because it's literally 6 months since I've had a kitchen at home, now. God, that's depressing to think about.
That'll do for an update; hopefully my next one will be extolling the amazingness of Leith's Cooking School and maybe even have a positive house report.