Erin told me I couldn't mangle the spelling of dining to make it fit the Germanising of the other two words.

We've arrived in Koblenz with sore arses and wobbly legs, but with a new sense of accomplishment. But let me backtrack.
We're on our well-needed (and well-deserved, if I do say so myself) holiday to Germany. It's a deliberately more slow-paced/low-key/relaxing than basically every other holiday we've been on because really, we needed to rediscover no-stress downtime. So, nothing too busy, seeing a bunch of smaller towns and cities, no hustling and bustling, taking it slow.
We started in Frankfurt last Thursday night – after a bit of a flight delay but it didn't really matter – and spent Friday doing a very slow wander around after a nice brunch. I think the sudden outbreak if holiday time made my body decide it was time to abandon me, because I was completely exhausted and struggling to stay awake at times. We saw some nice greenery in the middle of Frankfurt – it's quite green and pretty in general, we thought – and then spent a couple of hours in the Palmengarten where they had lots of cacti and other succulents; basically green pretty things. It's also where I lost the aforementioned struggle and definitely nodded off on a park bench for a bit. We also found a dinosaur?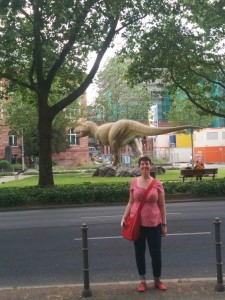 Saturday morning was onwards to Mainz – a quick and easy 30-minute train ride – and another afternoon of wandering and looking at things. Erin sensibly collapsed in the hotel for most of the afternoon – the exhaustion hit her a day later than me – whereas I decided to walk another ~10k around less touristy bits of the city. Mainz was nice, although quite small, and I imagine there's a thriving Christmas market scene there.

Sunday-Tuesday was the main pre-planned activity I was looking forward to the most – a three-day cycle along the Rhine, from Mainz to Koblenz, about 100km in total. It's certainly not a lot for anyone used to cycling but we'd only ever been on cycling day-trips previously, so we weren't fully sure how we'd manage with dragging our weary bones (and arses!) back out on the saddle the next morning. On the upside we were doing it in the easiest (if that's an appropriate adverb) possible way – our luggage was transferred from hotel to hotel while we were riding, so at least we didn't have to worry about lugging that around on each cycle!
Saturday evening things did not look good; try as I might (and did!) I couldn't find a single weather site that would tell us anything other than "no, sorry, you're going to get drenched and be miserable every single day" – basically some stupid weather system had descended over Germany for literally the three days we actually cared about, and then the rest of the week was going to be lovely. Grumble. Sunday morning we woke up and it was already lashing rain outside; breakfast was a sad affair, with me trying to perk Erin up but really struggling with disappointment myself – while I knew I could masochistically find enjoyment even in the worst conditions (perhaps history of playing golf to blame), Erin, rightly, wouldn't get anything out of being miserable on a bike for hours. Things were looking grim as we chewed our sad sausages and I drank the tasteless coffee. (I'm sure they were lovely but I'm trying to tell a story here!)
However! We got lucky! The rain stopped and we were at least able to set out in a state of dryness, an extremely important point for the enjoyment of any such endeavour. We were off, maybe things wouldn't be so bad! What do those weather forecasters know anyway?
Well, it turns out, they know some things; after a cake stop, still dry, in the lovely village of Eltville – the half way point of the day's travels – the remainder of the day's journey was a bit of a faff. Because there'd been so much rain in Germany recently the Rhine was quite heavy, and in fact had flooded some of the otherwise-excellent bike paths between Eltville and Rudesheim, our destination. This resulted in some messing around trying to find alternate routes, and unfortunately coincided with some ridiculously heavy rain/thunder showers, so we ended up having to cycle along some quite dangerous main roads without really being able to see very much, with cars helpfully honking us. Luckily this was only for a few kilometres but we definitely got to Rudesheim (am Rhein) bedraggled and flustered and reallllllllly ready for a shower and a lie down. Luckily the hotel had our rooms ready already – it was still quite early, like 1pm – so we could do exactly that, immediately, and really that did a great job of fixing us and salvaging the day from that unpleasant hour. We had a nice relaxing afternoon – me sampling some of the local wine, as seemed appropriate – and then had a really lovely meal that evening. Successful day!
Going to bed, satisfied, on Sunday night, the vision for Monday morning unfortunately wasn't much better than it had been for Sunday – rain, thunderstorms, etc. It seemed the only potential chance we had was getting to Sankt Goar (the next destination, ~30km further along) as early as we could; so, first thing in the morning we were up and about, had a nice breakfast, and then caught the 8.30 ferry for the 15-minute hop to Bingen on the other side of the Rhine (it's pretty wide, bridges are few and far between!). Immediate regret on hopping onto the bike – delicate arse, now I have an appreciation for what saddle-sore means! – especially as we'd rejected buying painkillers en route the previous day as we incorrectly assumed they'd be available in Rudesheim. They were not. Ouch. Anyway. We made excellent time, cycling straight through to Sankt Goar with no intermediate stops and getting there at 11.00 before any rain hit; success! We stopped for a drink at a cafe when we got there, though, and then got heavily rained on as we made our way to our hotel a few km out of town; oops! At that point it didn't really matter, though; the room was again ready, the shower was hot and hard (corr blimey) and we were very satisfied with the morning's cycle – our first multi-day cycling. We were even up for more afterwards, as we walked back into town and climbed up to the excellent castle for our afternoon's entertainment. Gluttons for punishment! I had some more local wine, then we had a lazy dinner in the hotel we were staying at.
Day three – Sankt Goar to Koblenz – was both the longest (at about 33km) and the hilliest (according to Google we would climb 117m and descend 121m), and with a very similar weather profile to day 3 – finish early or be drowned. So, again, up at the relative crack of dawn – 6.45 – breakfast at 7.30 – alas no sausages this time – and on the road by 7.45. This time armed with paracetamol at least, so arse was a dull is-there-something-burning sensation rather than hot pokers attempting to prise my two sit-bones apart slowly. This was day 3, though, so we were both understandably wondering how good a pace we could sustain; but, as it happened, quite good actually! We covered the (definitely hillier) ground in about three hours and reached our hotel, remarkably dry, well before midday; so early that our rooms were definitely not yet ready so we wandered (slowly) around Koblenz for a bit before shower time. Sorry natives!
And so ends our 3-day cycling section along the Rhine; incredibly enjoyable, very satisfying, and very picturesque. At this point I'm thinking about how I might manage the full Rhine head-to-mouth cycle, a distance of about 1200km. Something to think about in the future!
And finally, have some pictures of random food.