I'm getting there, I'm getting there, don't rush me. We'll get there together!
Leaving Strasbourg we had one last place in Germany to visit – the relatively small city of Freiburg, very close to the Black Forest.
At this point in our trip the weather had turned around; rather than grey and dreary it had changed into very hot and humid. We were already getting worn down a bit by the amount of stuff we'd done already, so this weather really took it out of us in Freiburg. We did a lot of very slow strolling – anathema to me usually!
The first day there (having arrived fairly early from Strasbourg) we did some exploring, had a look around at what was a fairly pretty town, sat for a couple of hours for lunch and a read in the shade, that kind of thing; very low key, quite nice.
The next day – attempting to get over the sudden prospect of Brexit – we decided to walk towards the outskirts of the city – a large green fairly-unpopulated area that had a lake and a semi-zoo, that kind of thing. It was maybe a little bit longer than we expected – about 8km I think – and it was really quite hot as we ended up walking until quite close to midday, but we did see some pretty things and it was a nice day out. We did collapse when we got back, though.
After recovering in the hotel for a couple of hours we took a bus to the outskirts of Freiburg to take a cable-car up a very high hill – possibly the highest point for miles and miles around – with good views across the otherwise mostly-quite-flat region. It was the longest cable-car ride I'd been on – I think 15-20 minutes or so – and it really did climb quite a long way.
Our final bit of Freiburg was having dinner at a nice restaurant overlooking the city, up a steep hill that we ascended via funicular. It was possible to walk up as well, but at that point we were pretty much dead! We had a very nice meal – Erin having some genuine Black Forest Gateaux – and then saw some pretty sunset views before shambling back to our hotel.
Freiburg complete, onwards to our last (and single-night) stop – the city of Basel in Switzerland. Basel sits on the Rhine, very appropriately given how we started the holiday. The baking heat had continued from the previous day – and the long walk definitely had lingering effects – so our first day in Basel was mostly us wandering around slowly, taking regular sit-down breaks by the river or in gardens, and mostly trying to avoid hills. Basel maybe not the best city to have to attempt hill-avoidance; it definitely felt like some kind of skating park at macro scale. We saw some pretty buildings and took a short ferry across the Rhine, then finished by eating some sausage – it's traditional!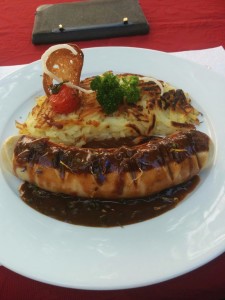 On the final day in Basel, and of our awesome holiday, we went for another bit of a wander through the city and then stopped at a weird little museum – a museum of Kinetic Sculptures, by a (famous?) guy called Jean Tinguely. He really liked sculptures that were in motion, or that could do 'something' in response to you pressing a button. Some of them were really engrossing, especially the fountain – you can't see from the picture, obviously, but all of the pieces in the fountain are in constant motion in various different patterns. Really good!
Naturally, to round off the holiday, we treated ourselves to a nice lunch; such a good time we had, although it's made getting back into our regular lives a bit difficult!