No, no, I'm certain that can't be right. Only 28 days? Are you sure? Hmm.
To be fair to February it wasn't too bad, it was just a couple of weeks in there that got to be a bit too much. You know, the ones where you get to Wednesday and you're already wondering if the weekend has gotten lost somewhere? Yeah, those. Nothing particularly bad, really, just a bit overworked and over-evented, with a side order of self-imposed sleep deprivation at times. No, honest, staying up until 3am watching the Superbowl at the start of my week of earlies (at my desk by 7am) of work was a great idea!
Bad Ger.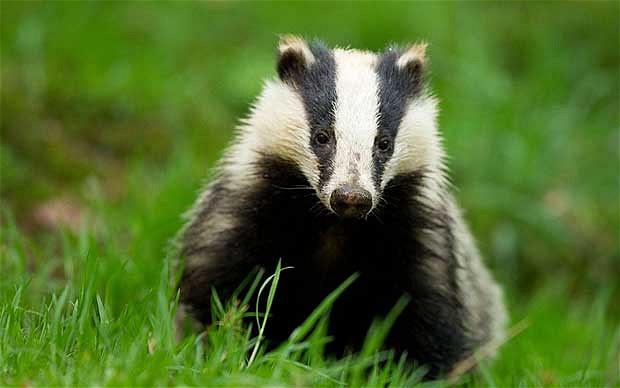 Ahem.
I'm almost 3 months into the new job now (12 weeks already gone by, I think), and it's still going pretty well. Annoyingly my contract has a 6-month probationary period at the start – pretty standard really, but still quite long – so while realistically (i.e. judging by manager feedback etc.) it's absolutely nothing for me to be worried about it'd be nice to not have it hanging over my head. I'm into the last stretch of my first project there and I should get that done and dusted in the next couple of weeks; part of February's issues were that I'm pushing myself quite hard, both in terms of effort and raw number of hours at  work, to do a good job on it. First chance to make a major impression, etc. It'll be fine, but it still needs doing.
We're well into the planning stages of the major house restructuring we're hoping to do later in the year. Valuations getting done, builders in and out to give quotes, structural engineers poking their noses and eyes into holes, our faces agape at the cost of stuff, that kind of thing. It's quite exciting though, even though it's still at least a few months away from getting it started. The structural engineers are estimating a week's work to draw up the plans – that's right, a whole 40 billable hours – and we're obviously having to pay them for every single one. That's a lot of planning, I hear you say, but better that than the house fall down; we're removing quite a bit of it! Houses don't need walls, right? They just get in the way. Now where's my sledgehammer …
Have a couple of miscellaneous London shots; a view from Waterloo Bridge I think it was, plus a couple of (very different) views from our house.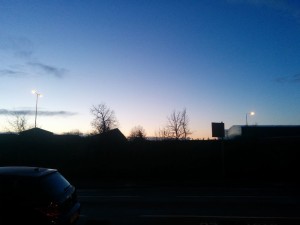 It wasn't all work and no play in February, we did a whole bunch of other stuff as well!
Early in the month we went to a show/performance thing at The Vault festival in Waterloo: A First Class Death. It was…very…odd? But kind of enjoyable, I think? I'm definitely having this as my cremation theme tune though, I found out/realised that much. The Vaults themselves are a network of tunnels below Waterloo Station, now converted into various small venue spaces, and they were quite interesting and different. Finding them was pretty tricky, though; the directions involved stuff like going down a random street stairway, turning down an apparently-famous graffiti tunnel, that sort of thing. Of course once you get there there's no phone reception to guide anyone else, but at least there was a nice cosy bar area inside to wait which was well needed on the freezing day we were there. Good fun afternoon with Abby, Sid and Mark.
Only two pictures from the Vault and the vicinity; one is definitely a rocket, the other is, well, I'm not really sure. In retrospect I should've taken some pics of the graffiti but it never occurred to me!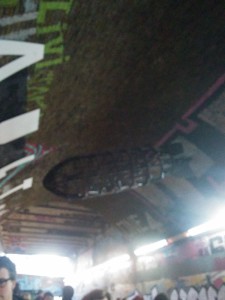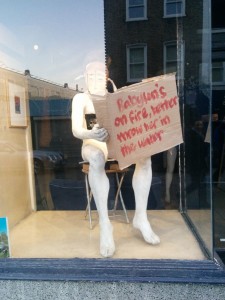 Mid-way through the month we (ok, mainly I, but Erin wasn't objecting too much!) decided that taking a random day off work sounded like an excellent idea. We both took the last Thursday of the month off, and I can highly recommend it. I think Thursday is maybe the most optimum 'random' day to take off – Wednesday feels like a Friday, and while you're back to work the next day the Friday still feels more like a Friday than a Monday! I think it's something we'll probably make a habit of, especially as we're unlikely to have a significant 'proper' holiday this year due to the money and effort we're going to be pouring into the house. Besides, I usually have a bad habit of ending up in December with a whole bunch of un-taken holidays and it seems much more sensible/beneficial to spread them out throughout the year for maximum effect! Next random holiday day is the end of April, looking forward to it already.
Anyway, Thursday off; we had a nice quiet day, really, heading out for a relaxing fancy lunch at a nice restaurant and playing some boardgames in the afternoon. The lunch was excellent, right up there with some of the best meals I've had, and at a very reasonable price. Pictures below, including of the menu! You'll notice that the two of us tend to hold the phone at different orientation for the taking of the pictures, not particularly helpful when it comes to aligning them …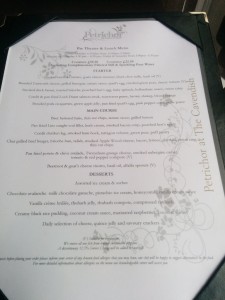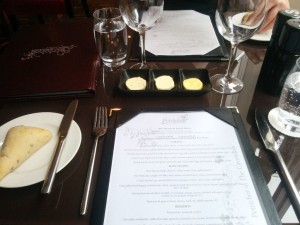 Starters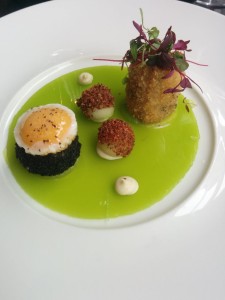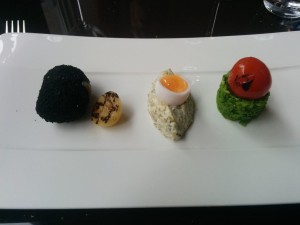 Mains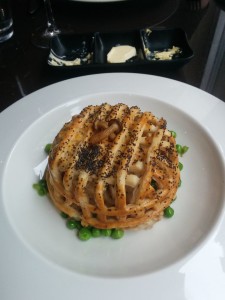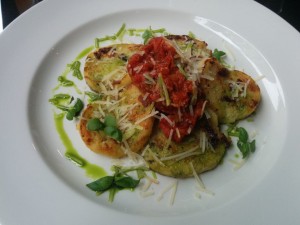 Desserts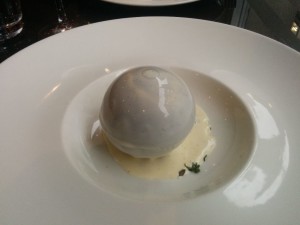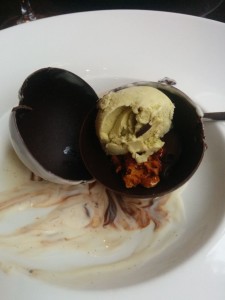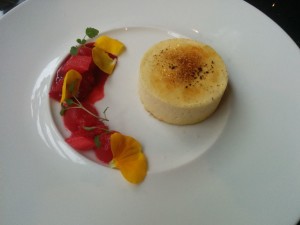 Good restaurant, would recommend.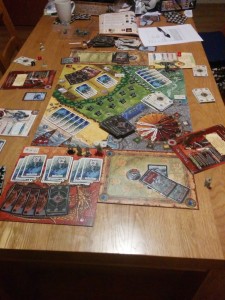 I've recently been getting into DnD for the first time. If it had been a thing that existed in rural Ireland when I was growing up I'm sure I'd have been into it, but it didn't so it entirely passed me by until now. Towards the end of last year Sid, who's been DMing on and off for years, gently (more or less…) guided me and Erin and a couple of others through a few scenarios of a campaign over a couple of epic gaming days and I was intrigued. As someone who's played his fair share of roleplaying videogames the experience was, perhaps unsurprisingly, entirely new and different. Where even the most freeform RPG game still has to impose some constraints on what it is possible to attempt, the same isn't true at all for DnD – the only limiting factor on what you can attempt is literally your own imagination. That took a while to get my head around, as well as the reduced focus on 'winning' and more focus on trying to play a believable character.
The reason I mention this now is that Sid has recently set up a regular DnD Meetup and I've signed up to that along with a few other randoms; we had our first night of campaigning a couple of weeks ago. It was quite a lot of fun, so for the foreseeable future my little pacifist gnome druid will be trotted out every second Thursday!
I've been working quite a lot on a major personal project of mine over the past few months – a website to manage my recipes. Some of you will know that over the past couple of years I've built up huge 200+-page google documents tracking every recipe I've attempted, and it had gotten so cumbersome that I decided I could write something from scratch that would do the job better. I've also used it as a learning ground for some web development stuff which is quite outside my normal domain. Anyway, the website is now in a functional state – as in, I'm using it 'for real' so-to-speak – but there's a long list of features still to be added. Also, importantly, I've not done any work on making it look pretty. I mention it now because I'm going to link to it throughout the rest of the post for various recipes that I have photos of. Feel free to browse around and even sign up if you like, and let me know what you think. But, to repeat – there has been no pretty-making! So don't complain that the random colour-schemes are hurting your eyes

These days my antidote to a stressful week is a weekend in the kitchen, cooking and listening to podcasts. It's very relaxing and has the side-benefit of us having an ever-full freezer (last count: approximately 200 meal portions currently stored). Have an orgy of pictures from one of those weekends (note the links ;-)).
Here's a Spinach and Ricotta Pie: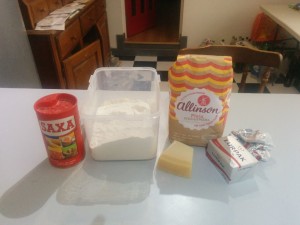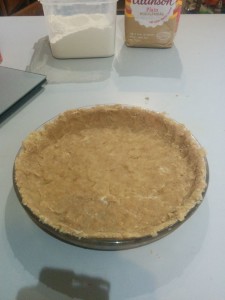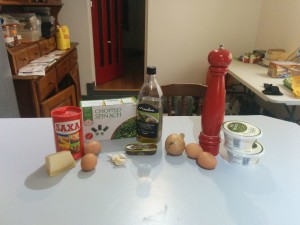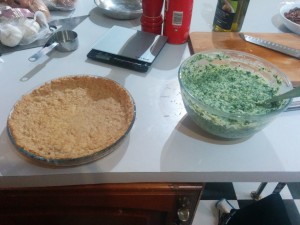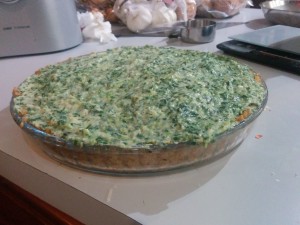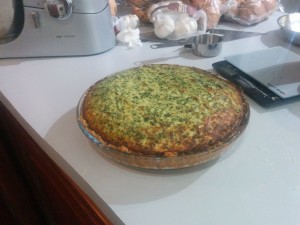 Next up – some not-great pictures of a Chicken and White Bean Chili – spices obviously freshly ground, and made with a homemade chili sauce:
Then, if that wasn't good enough, a Red Lentil and Sweet Potato Curry – again with the freshly ground spices, and some multitasking besides!
And finally, for that day, was a Baked Saffron and Butternut Risotto. I've been using the saffron I bought in Istanbul and it really is delicious.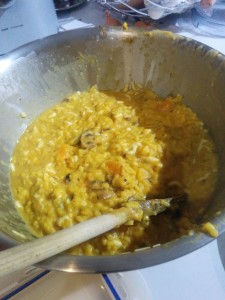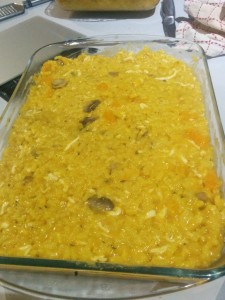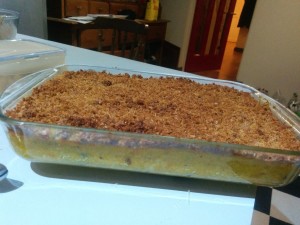 And that's what I call an excellent weekend!
We had people over on Friday 20th – Jake and Shelly, who we met through gaming last year – for an evening of fun/food/games/chat. For some reason I entirely failed to take any photos that night, but we had a good time! My main memory from that night was the trading of war stories around touching oneself with chili-infused fingers. Read into that what you will!
The following Sunday, the 22nd, we had some people over for a day of gaming. It had been quite a while since we'd had a good game of Eclipse (if you've not, you should), and it was awesome to get it on the table again. Matt pipped me by a point for the victory – something like 44-43! – but I'll have my revenge when we have the rematch in a few weeks' time.
When people come to our house for a day of gaming it also means I can go all-out with the cooking because I know there'll be willing mouths to stuff as full of good things as I can feed a sensible amount.
First up – everyone needs a plan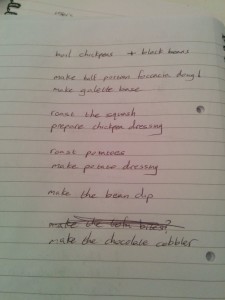 A galette, in stages: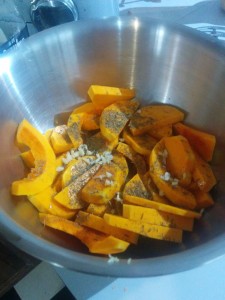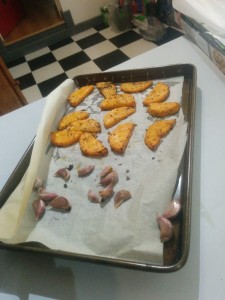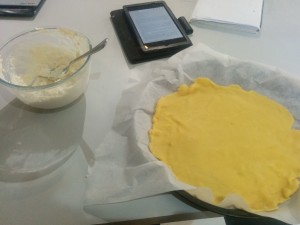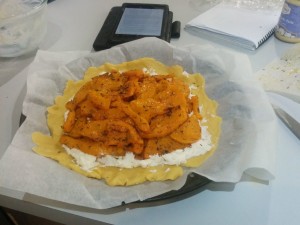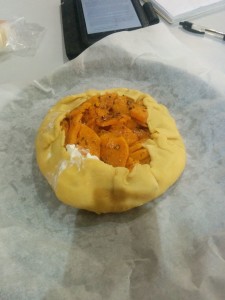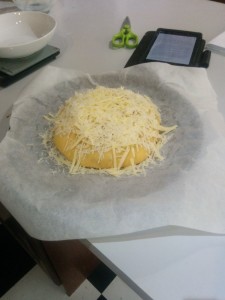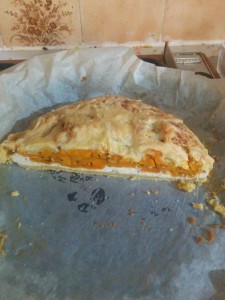 Lunch was the (previously pictured) Butternut and Garlic Galette, a Chickpea Bread Pudding and an Olive and Rosemary Foccacia: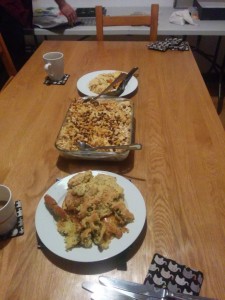 Gaming got under way after lunch; obviously mid-afternoon we needed some dips to relax the nailbiting tension of interstellar warfare. I can't actually remember which dips were on offer that day, but the ones I've currently added are listed here!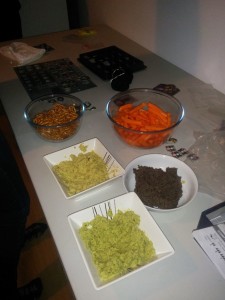 Eclipse is a mentally draining game, and after the four-hour epic we collapsed a bit and then had dinner. For that we had the Spinach and Ricotta pie (pictured earlier), Potatoes in a Mustard Vinaigrette and a Courgette Pesto Bake.
Just look at those happy people!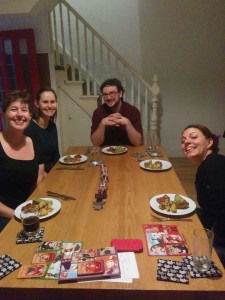 Dessert (because one always has to have dessert) was a Chocolate Cobbler; it was ridiculously easy to make and it turned out incredibly delicious.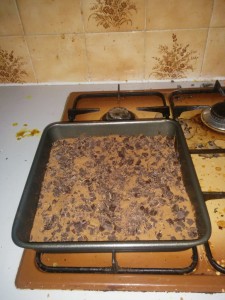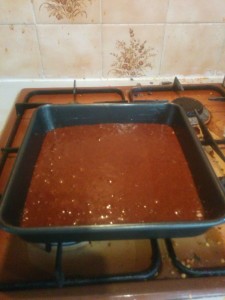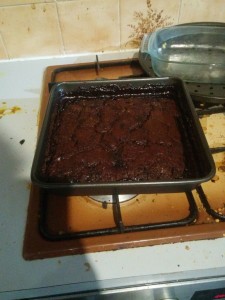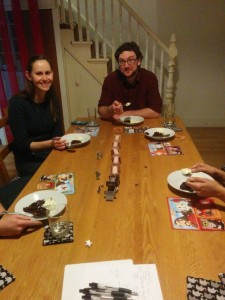 And, because it is indeed my mission to have people roll out the door by the end, there's always second dessert – usually a miscellaneous collection of baked goods to eat: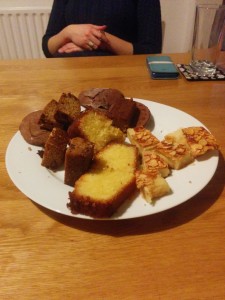 That was an epic Sunday of gaming and food, and the more of those I have in my life the better!
The week after was when we had our random day off, that was really good and made the week feel incredibly short. We hosted Chris and Raam on Friday night (aren't we the regular socialites), and as we trade hosting every few weeks we always seem to try to outdo each other with what gets served. It usually ends up in delicious meals so not going to complain about that!
Starters – polenta toasts topped with ricotta, cream cheese-stuffed peppers, sauteed and salted dates, and Buttermilk Hush Puppies with a Remoulade Sauce. Nyom nyom.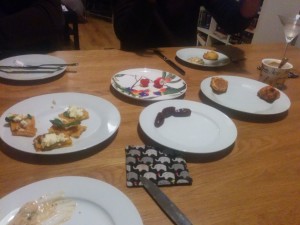 Dinner was Vegetable Wellington, a vegetable stuffing (neither of which are yet added to my website), Potatoes in Aioli and Pesto and a Mushroom, Spinach and Cream Gratin: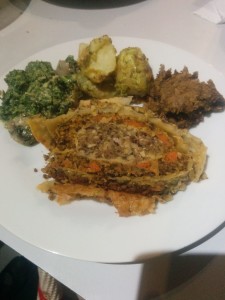 Dessert was one of my best in recent times, a Lime Pie; deliciously face-puckery with the zest of I think 6 limes in there, served with whipped cream. I'll be doing that again, I'm pretty sure.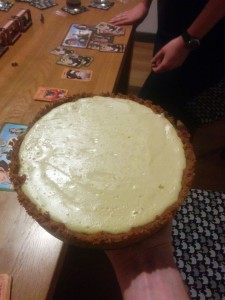 And so ended February 2015, forever. Wow, that was a lot of food. I'll be impressed if you got all the way to the end, to be honest!
The outlook for March is so far: busy, somewhat stressful in a not-necessarily-bad way, and very very interesting. We're taking part in three different exciting things in March so hopefully the next blog post will be singing their praises!