I'll catch you up if you've not read the last post: it's been a couple of months, we've done things, and now I'm going to tell you about some of the things.
There, now you're all caught up.
Although I'm not going to talk about builders at all in this post, one (maybe the only one!) amusing anecdote so far.
The builders had agreed to accept a delivery on our behalf and 30 minutes before the delivery was due I got a call from the driver to make sure someone was there. I assured him that all was good, they were ready. I get a call 30 minutes later saying they were outside the house and no-one was home; I promise them that someone will be there shortly so they proceed to unload the sizeable delivery (bath suite and suchlike). 15 minutes later I get an understandably-pissed-off call informing me that they were leaving as there was still no-one there. I pass on the pissed-offedness to the builder via email, but I couldn't help but laugh at his eventual response: one of his guys had been in the house, but was listening to music on his headphones so didn't hear the door.
Seriously, what can you say to that?
Anyway, on to more interesting things.
August was Fringe time! Fringe time best time, and as always we had an awesome few days.
The Fringe has turned into a bit of a 'thing' for us; we've missed just one year since we started going, and that year we were so disappointed to miss it we pretty much vowed not to miss it again. Therefore, despite having to, in general, conserve every penny while the building works are going on, we were always going to make an exception for our annual Edinburgh adventure.
This year we were joined by Syd and Abby, Fringe virgins. Beforehand Syd was very much of the opinion that they'd take it easy, go to a couple of shows each day, generally have a relaxing few days. I was sceptical – it's obviously very different from the way I approach the Fringe – but fair enough. I was delighted to see that after Syd's first afternoon in Edinburgh he was already hooked; he'd come back to the apartment with his pockets brimming with fliers, Fringe app on his phone, desperately trying to squeeze shows into every possible nook and cranny of free time. That's the way to do it!
We started our holiday in relative luxury – flying from London using air miles, and got into Edinburgh early on the Thursday afternoon. We had planned something like 24 events in our ~73 hours and we were quite happy in the end to have seen 21 shows; we always lost a few to tiredness, or rushing, or what have you. We usually see a mix of free and paid shows and this year was no different, but our hit rate seemed to be quite good overall this year. We didn't see any completely horrible shows, the worst were two shows that were a little bit 'meh' but not really objectionable, and we saw quite a lot of excellent comedy.
Interestingly, one of the best things we saw wasn't comedy at all, it was an art exhibition in one of Edinburgh's galleries – an exhibition of Escher's work – he of the weird stairs – for the first time in the UK. I had been aware of his existence previously but outside of the stairs picture I wasn't really familiar with any of his other work. I found it completely fascinating, and it was one of the only exhibitions where I've gone through and read every single little blurb beside each picture as we progressed. I believe it's coming to London in October/November and I highly recommend it to anyone even vaguely interested.
Here are a bunch of pictures of random Edinburgh things, as well as our collection of tickets at the end.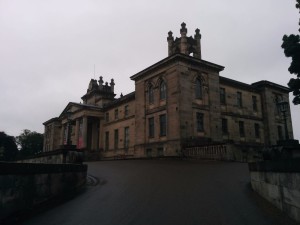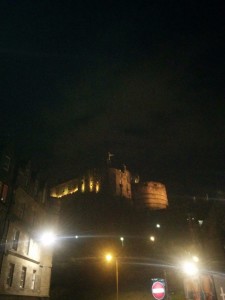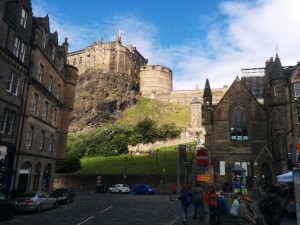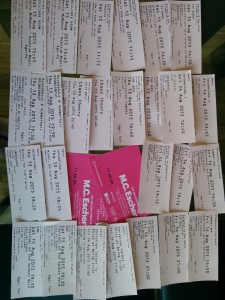 I ate quite a lot of haggis, some of it fried; I do really like haggis.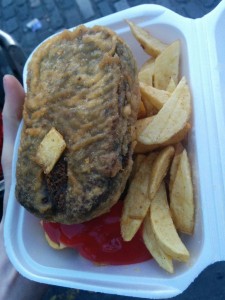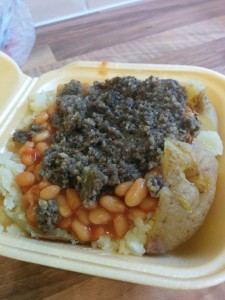 Oh, and I climbed/ran up Arthur's Seat!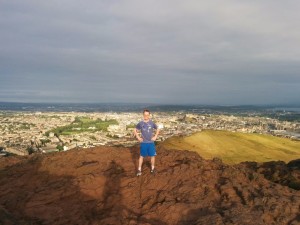 What else…
Oh, I had surgery! Although that's overstating it by quite a lot – I had a steroid injection into my thoracic spine (i.e. into the middle of my back) in the hopes that it would help deal with some of my chronic pain and discomfort issues. It was just a morning in a hospital as an out-patient, so nothing too exciting, but semi-general anaesthetic etc made it a bit more of an adventure than a regular injection. Time will tell if it helps much; I'm back into physio and exercises and the like for the next few months to try and take advantage of the effects.
We were at a fancy wedding out in the countryside at the end of August – Chris (a friend from former workplace) and Amy got married in a big old estate house, it was quite nice. We had a room in the house overnight as well so at least didn't have to deal with trying to get home at a sensible time. While in a lot of ways it was a fairly traditional wedding it was done in a very sensible and 'fun' way – a bunch of little things like having a put-on-fancy-dress-for-funny-photos area, or having balloons at the dinner tables that ended up in balloon fights across the room. Lots of fun!
We went to an interactive experience/show/something called 'Absent', in Shoreditch Town Hall. It was very loosely based on a story about a rich socialite who back in the 70s turned up at a hotel in London, lived the high (but gradually lower as money ran out) life for a few months, then disappeared. It was interesting, very well done (to the point that we were initially confused about what had happened to the Shoreditch Town Hall!), and probably just about the right duration to be enjoyable all the way through.
We went with Jake and Shelly on a tour of the Bombay Sapphire gin distillery which was good fun, despite it being out in the middle of nowhere and happened to coincide with a day where trains decided they didn't really want to work very well. And when I say "in the middle of nowhere" I do really mean it – it was a ~2 mile walk from the train station, with no taxi firms in the area and buses only once an hour. That's a bit different from normal! It was a nice day, though, and the distillery was well worth the trip. The place itself was surprisingly picturesque, and at the end of the tour we got a cocktail each based on choices we had made when smelling all of their flavours in the aroma room.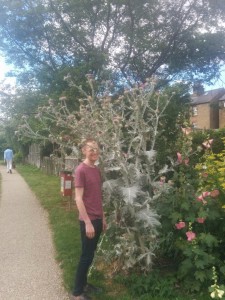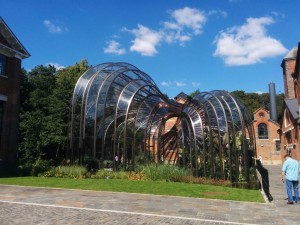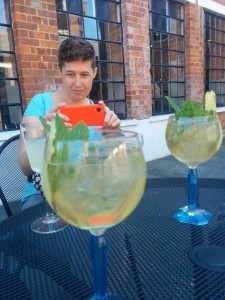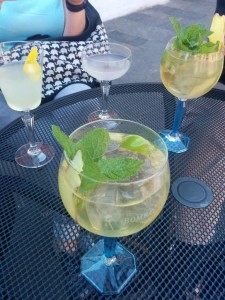 And last, but not least, we did another Megagame last weekend. This one was much different from before; no aliens or world politics, instead it was set in a weird re-imagining of 1930's New York, where that re-imagining involved an amalgamation of weird science and superheroes/villains along with the more standard gang warfare and police/political corruption. Again we were playing with Syd and Abby, and this time we were one of the two Irish gangs ('Regan's Boys') trying to control the streets. It felt a lot more intimate and manageable than the previous Watch the Skies Megagames we'd played in, so while you didn't get the same sense of huge scale as a room full of 250 people it instead felt like you could keep a reasonable grasp of a lot of what was happening. The setting and interaction of the various elements were fantastic, and I think there were a lot of emergent surprising storylines that came out of it. Just as draining as always, though, we came home absolutely wrecked and the Sunday was a bit of a write-off too!
And that's us more-or-less caught up with the latest, now. We have a few days off work this coming week during which we plan to do some London touristy stuff, so that'll be good and hopefully relaxing.
It's Saturday 19th September as I write this, and finally the last structural wall that we wanted demolished has been removed; have a picture. I'm still feeling cautiously optimistic in general, but also a little bit down about it today; please please please let it be finished in 2015.